Creating loving homes since 1947
Thank you for your interest in our adoption program. We have temporarily paused our program in order to evaluate and implement important changes that will lead the program into the future. Our mission to create healthy relationships, loving homes, and strong communities starts with providing the best possible support and experience for all individuals and families interested in adoption. We look forward to restarting the program soon.
If you have any questions or need more information please contact Megan Kirk at megan.kirk@caritasfamilysolutions.org
Caritas Adoption from the Heart Program
For more than 70 years, Caritas Family Solutions has been devoted to creating loving families through adoption. Our Adoption from the Heart program is the largest in Southern Illinois. We give equal attention, care, and respect to pregnant women considering adoption, children needing a permanent home, and the people who want to become parents. We even help adopted kids and birth parents find each other.
We encourage open adoptions by matching families who are waiting to adopt with birth parents who have chosen adoption for their child. The adoptive families then provide our adoption agency with regular updates regarding the child which are shared with the birth parents. Throughout the years, we have seen the positive benefits of open adoptions for everyone involved.
Caritas is an independent, accredited adoption agency, not affiliated with DFCS.
Adopting a baby or child who needs a permanent home is a wonderful thing to do to complete your own family and strengthen our community. It's a lengthy process, as it's important to ensure that all parties are the right fit for each other.
Anyone applying to adopt must be:
At least 21 years old

Single, married, or a legally recognized couple

Willing to provide child updates with pictures to Caritas at least yearly

Committed to demonstrating Caritas Family Solutions

Mission and Core Values
If you're wanting to adopt an infant who is not yet born, please note the process can take 3 – 6 months to complete. We conduct a home study, which involves background checks, self-studies, a relationship or personality assessment, individual and couple interviews, medical clearances, and reference checks. We also require training.
Once approved, the wait time for placement is unpredictable. You will provide a profile for birth mothers to view, and they choose who they want to become their baby's parents. Each year, we successfully match 8 – 12 infants to adoptive parents through our Adoption from the Heart program.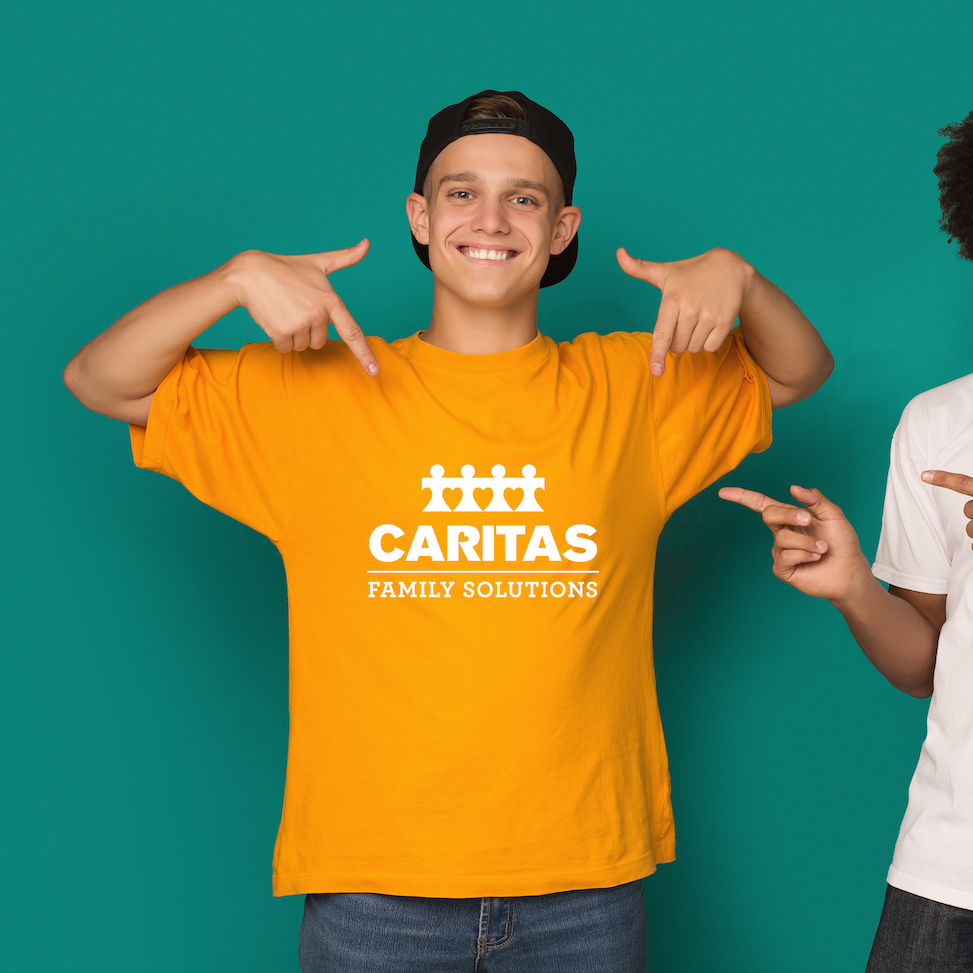 After a traumatizing childhood, deeply instilled rage made Carlos unable to stay in a foster home. We took him in and gave him loving care and a strong support system. Now, he can imagine a life without violence.