Creating loving homes since 1947
Thank you for your interest in our adoption program.
Our mission to create healthy relationships, loving homes, and strong communities starts with providing the best possible support and experience for all individuals and families interested in adoption.
If you have any questions or need more information, please contact Melyssa Frederick, Adoption Manager at melyssa.frederick@caritasfamily.org or call her direct number at 618-744-7297.
Caritas Private domestic Adoption Program
Caritas Family Solutions is devoted to creating loving families through adoption. Our adoption program serves Southern Illinois. We give equal attention, care and respect to pregnant women considering adoption, children needing a permanent home, and the people who want to become parents. We even help with search and reunions from past Caritas Family Solutions or Southern Illinois Catholic Charities adoptions. Our private adoption program is voluntary placements between birth parents and adoptive parents, please note, this program does not offer adoption through foster care.
We encourage open adoptions for the adoption triad (birth parents, adoptive parents and the adoptee), which is the basis of our Adoption from the Heart program. An open adoption means the birth mother and adoptive parents will choose each other, may have access to each other's information to the extent all parties are comfortable, and ideally, also have an ongoing relationship. This has shown to be beneficial to all parties and strengthens the family.
Caritas is an independent, accredited adoption agency, not affiliated with DFCS.
Contact us for more information about our Private Adoption program.
pregnancy options counseling
If you're experiencing an unplanned pregnancy and considering you're options including adoption, we're here to help. Learn more about our Pregnancy Options Counseling services.
Or for immediate assistance call or text our on-call number: 618-507-9216
We need funds to support and care for pregnant women, and provide adoption services. Donate now.
Adopting a baby or child who needs a permanent home is a wonderful thing to do to complete your own family and strengthen our community, in addition, it can be complex and hard. It's a lengthy process, as it's important to ensure that all parties are the right fit for each other.
Criteria to Adopt Through Our Private Adoption Program
We will assist individuals of any ethnicities, race and/or religion who reside in Southern Illinois. We follow the laws within the State of Illinois regarding adoption for all types of families including single parents, as well as families with other biological and/or adopted children.
For agency assisted domestic adoptions:
Caritas requires you to be 25 years of age or older to the age of 55
If married, we require one year of marriage before making an application and one person must be a U.S. citizen.
We are unable to serve families that are seeking a closed adoption
However, we accept families who are already working with an adoption agency, adoption professional or desire to work with another agency.
We allow one adoption or placement at a time, unless the children are siblings, as we believe each child or sibling group should have 9 months between placements.
We are able to assist with all types of adoptions and do not have the same eligibility criteria for the home study or post-placement process for individuals or families that are seeking placement independently. 
Domestic private Adoptions
Please note the typical wait for a domestic placement nationally is 18 months after an approved home study. Home studies are required in the state of Illinois for all adoptions, and we can conduct a home study, which involves background checks, self-studies, a relationship or personality assessment, individual and couple interviews, medical clearances, and reference checks. We also require training.
Once approved, the wait time for placement is unpredictable. You will provide a profile album for expectant parents to view, and they choose who they want to become their baby's parents. In addition, you can be featured on Caritas website as a waiting family.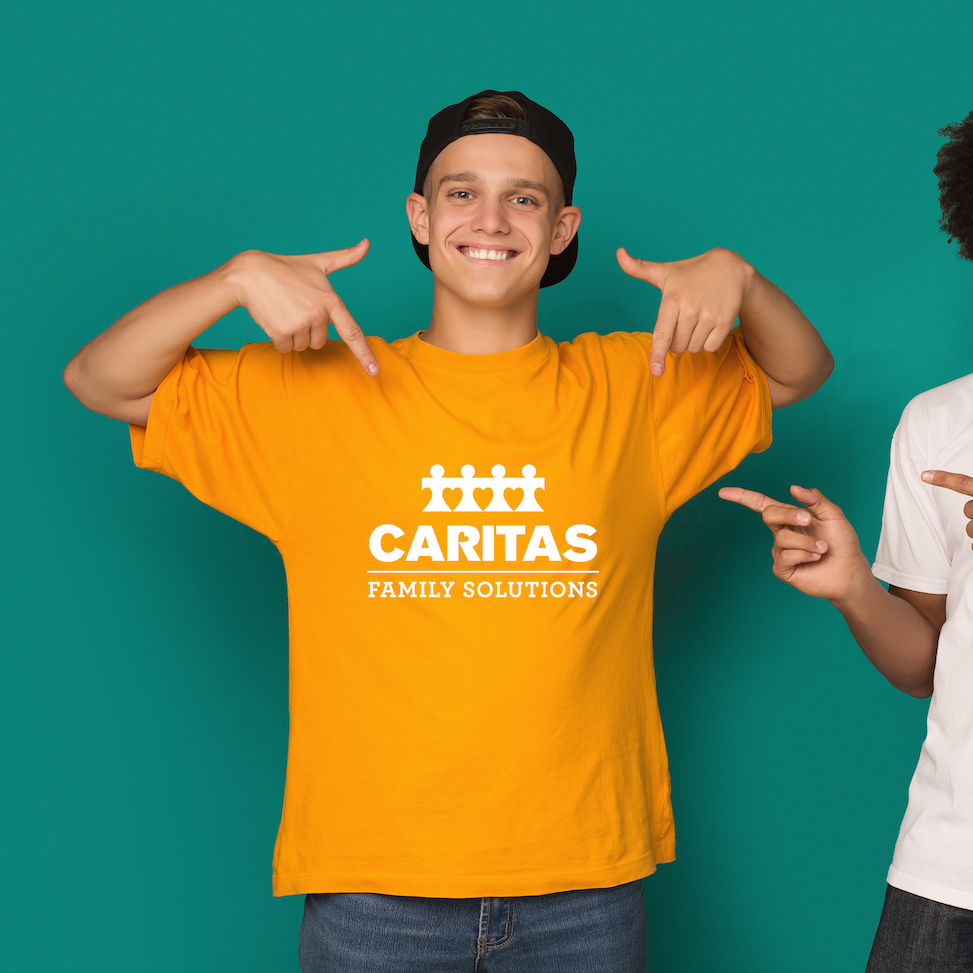 After a traumatizing childhood, deeply instilled rage made Carlos unable to stay in a foster home. We took him in and gave him loving care and a strong support system. Now, he can imagine a life without violence.